Step 1
Do you want to start shopping by lens or by frame?
SHOP BY FRAME STYLES:
Start looking through frames from any page on the site. You can shop by gender, new arrivals, or eyeglasses/sunglasses. The prices you see include single-vision (distance or reading) lenses.
SHOP BY LENS TYPES:
Go to "shop by lens" where you'll see all the different lens types and brands we carry. From whatever you choose at this point, the price you see includes the frame and your lens option.
PRO TIP:
Click/Tap the QuickView option on the thumbnails to see more details about the frame that may help you make your decision. We also recommend using our Wishlist feature so you can keep all our favorite options on one page.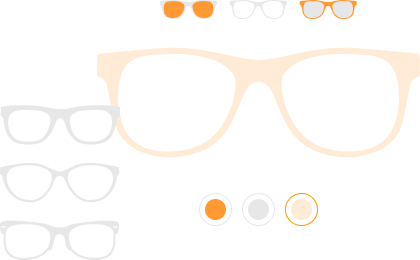 All our lenses come with 100% UVA/UVB protection, scratch-resistant coating, and a
worry-free guarantee at no additional cost.
Shop Glasses
Step 2
Now that you've chosen your style, let's customize.
PRESCRIPTION OR NON PRESCRIPTION?
When you're on the product page, choose if you want your glasses to have your prescription or not. If you choose non-prescription, you'll go straight to checkout. If you choose to have a prescription, you will be taken to the next page where you can customize your lenses.
DECISIONS, DECISIONS:
If you shopped by lens type, your chosen lens will already be taken into account in this step, therefore you won't be asked any redundant or irrelevant questions. If you shopped by frame, this is where you will begin customizing your lenses.
PRESCRIPTION INFO:
We give you plenty of options when it comes to adding your Rx; You can enter it yourself using our dropdown tool, or use a saved Rx if you're an existing customer, you can upload a photo of it, or you can choose to send it to us later (you'll have 21 days to send it after you complete your order).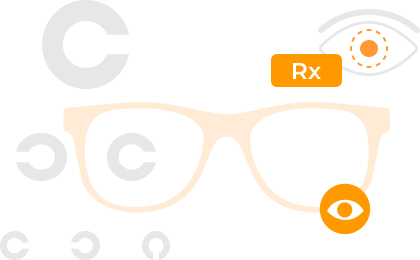 We will also need your Pupillary Distance (PD) measurement. This isn't always included in your prescription, but don't worry, we created a tool for you so you can easily measure it yourself.
Use AccuPD™
Step 3
You're ready for checkout!
PAYMENT METHODS:
We accept the following payment methods:
All major credit cards
FSA/HSA cards
PayPal
Amazon Pay
SHIPPING METHODS:
We offer different services from USPS and Fed-Ex. We're located in New York, your shipping time may vary depending on where you're located.
SOME THINGS TO KNOW:
Because these are custom orders, our manufacturing time takes an average of 2-5 business days prior to shipping using the shipping method you choose.
You accrue 4% of your order total which will be stored in your Eyebucks Rewards, you can then use it on any of your future orders. You can access your rewards in your account section.
SIT BACK AND RELAX:
Once you place your order, we'll send you an order confirmation. Please look it over and make sure all the information is correct. If it is not, please contact us immediately so we can correct any issues before production begins. Once your order is ready to ship, you will receive another email with a tracking number for your shipment.